GIANA
09169
CNC SIEMENS 840 D SL
CAPCITY:
Center height over bed mm 560
Swing diameter on the bed (without telescopic guards) 1120 mm
Swing diameter on the bed (with telescopic protections) 930 mm
Turning diameter on the cross mm 770
Distance between centers mm 6000
Max workpiece weight supported between the tips without steady rests Kg 6000
Center height on the table surface of the bed mm 1150
SPINDLE:
Spindle nose ISO 702 / A2 11 ''
Bar passaging mm 155
Motor power kW 40
Number of speed ranges 2:
-1st range 347 rpm
-2st range rpm 1485
Self-centering diameter mm 700
BED:
Bed width mm 805
Number of sliding guides N.4+1
Bed height from the table surface to the guides mm 600
TAILSTOCK:
Quill diameter mm 160
Quill stroke 250 mm
Quill taper CM6
TURNING CARRIAGE:
Longitudinal Z axis:
-Max longitudinal stroke 6000 mm
-Work feedrate mm/min 2:3000
-Rapid feedrate mm/min 6000
Cross X axis:
-Max cross stroke 570 mm
-Work feedrate mm/min 2:3000
-Rapid feedrate mm/min 5000
TOOL CHANGE:
Motorized turret with 8 live tools VDI attachment
MACHINE DIMENSIONS AND WEIGHT:
Overall dimensions approx. mm 11.000x2900x2700H
Weight approx. (without electronic equipment) Ton. 18
EQUIPPED WITH:
-Steel platform with 4 independent clamps diam. 700 mm
-Device for precise positioning of the spindle
-Horizontal axis electromechanical turret DUPLOMATIC BVSN 320 12 stations complete with tool holder disc and tool motorization module
-Steady rest with manual control, gripping capacity diam. 50-500 mm, max load 3000 Kg
-Hydraulic rest with sliding guide
-Chip evacuator
-Bar holder
-Motorized head for grinding, VDI attachment
USED MACHINE
FILL OUT OUR FORM FOR MORE INFORMATION
Potrebbero interessarti
LATHE CMT MOD. URSUS TC 500X1500
GIANA
New04801
AUTOLATHE
CNC FAGOR 8055T
-HEIGHT OF CENTER FROM PLAN MM.250
-DISTANCE BETWEEN CENTRE MM.1500
-MAX...
LATHE AUTOMATIC TSUGAMI
GIANA
NEW01044
MOD.NU4Y
CNC PRECISION FANUC 10 T
AXIS C
LIVE TOOLS
COUNTER SPINDLE
USED MACHINE
LATHE MAZAK 40N ATC
GIANA
07378
EQUIPPED WITH HEAD, CONTINUOUS AXIS C
CNC MAZATROL T.3
Turning diameter mm 540
Turning lenght mm...
LATHE CNC DAEWOO PUMA 450A
GIANA
08537
CNC FANUC 18-T
CAPACITY:
Max swing diameter over the bed mm 900
Max swing diameter over the...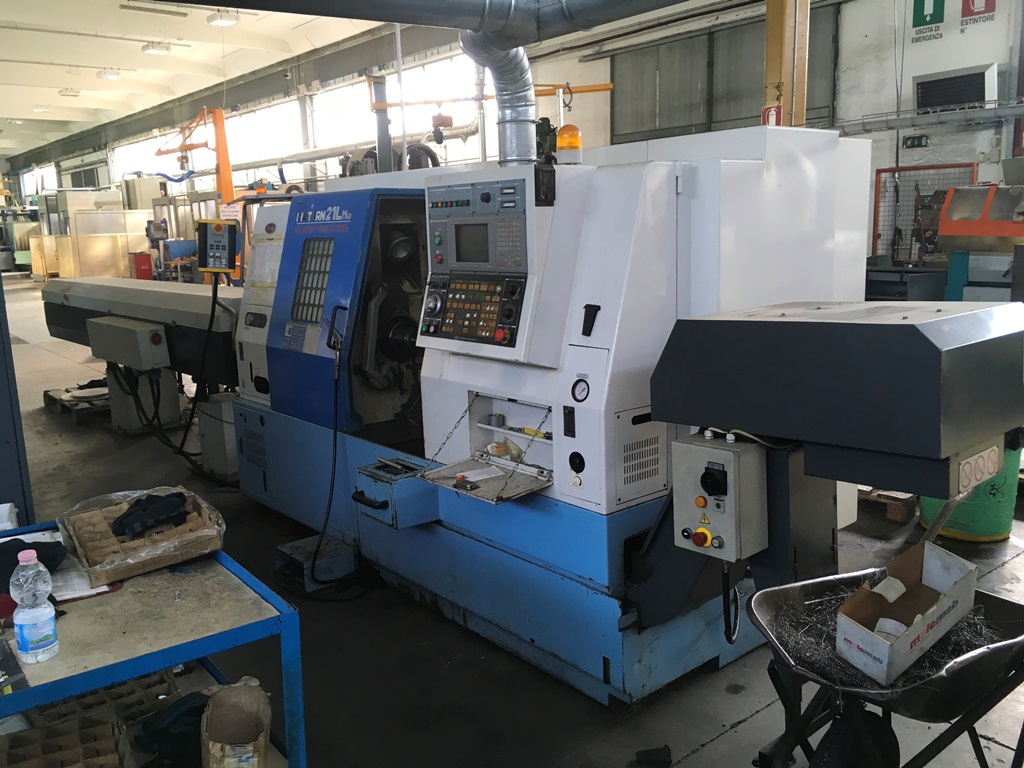 LATHE KIA TURN 21 LMS
GIANA
08070
LIVE TOOLS
CNC MITSUBISHI MELDAS M520AL
WORKING CAPACITY:
-Swing diameter on the bed mm 550
-Max...
X
Scarica PDF
Enter your email address to receive a link to download the PDF
Per poter procedere, la prima volta devi inserire i Tuoi dati
<