FPT
09204
WITH FIXED PORTAL
CNC Heidenhain 530i
CHARACTERISTICS OF WORKING AXES:
Longitudinal travel 1750 mm
Cross travel Y mm 1400
Vertical travel Z mm 600
Axis feedrate mm/min 35.000
Max acceleration m / sec2 6
WORKING AREA:
Max horizontal passage 1200 mm
OVERALL DIMENSIONS:
Max height 3750 mm
Base dimensions 5650x3350 mm
Occupied area m2 22
ELECTRIC SPINDLE:
Power kw 18
Torque Nm 80
Max speed rotation 18000 rpm
Tool taper HSK-A63
MAX POWER INSTALLED:
kW 55
TOTAL WEIGHT (APPROX.)
20,000 kg
TURNING TABLE:
Table top dimensions mm 1000x1200 (Max diagonal p 1300 mm)
Table capacity 2500 kg
Distance between table and spindle nose 2004-800 mm
Max horizontal passage 1200 mm
Max vertical passage 800 mm
Height of the worktop from the ground mm 870
COMPLETE OF:
- CNC HEIDENHAIN TNC530i SINGLE PROCESSOR
15.1 "TFT monitor
Graphical user interface
Heidenhain linear measuring systems
Interpolation capacity: up to 9 axes
Type of interpolation: linear, circular, helical
Block cycle time (BCT): minimum 0.5 ms
ASCII program coding language
ISO programming language, Heidenhain
Storage unit: 6Gb hard disk
Programming on board the FLEXK machine
Axis control techniques: Jerk, Look-Ahead, digital filters
Integrated cycles for part measurement and tool measurement
Data transmission interfaces: RS232 at 115200 baud, RS422 a
115200 baud, Ethernet 100Base T (for use on 10Mb networks
a speed reducer is required, at the customer's expense)
Axis control: algorithm for High Speed ​​Cutting (HSC)
Remote control panel with HR410 electronic handwheel
- CONTINUOUS MOVEMENT OF ROTATING AXES
Work table and milling head are continuous axes of rotation allowing 5-axis interpolation machining. The mechanical structure remains unchanged while the motors and drives are sized for continuous rotation during processing.
The technical characteristics remain unchanged with the exception of the rotation torques which are the following:
Rotation torque of milling head: 410 Nm
Rotating torque of rotary table: 2500 Nm
-CHAIN ​​TOOL MAGAZINE 30 PLACES HSK
HSK-A63 taper
Max tool diameter with adjacent seats occupied 90 mm
Max tool length 300 mm
Max tool weight 10 kg
Tool change time 15 sec
- TOOL COOLING LUBRICANT
System for tool lubrication and cooling through nozzles
adjustable around the spindle.
Performance:
Flow rate: 30 l/min.
Pressure: 6 bar
Filtering degree 100 pm
Filtering is performed directly on the conveyor (ETDL or ETSL option) through a metal grid.
-CHIP CONVEYOR WITH RIGHT EXIT
It replaces the collection tank at the exit of the augers
-LASER PROBE AND TOOL INTEGRITY VERIFICATION SOFTWARE AND TOOL LENGTH AND RADIUS MEASUREMENT SOFTWARE
-DYNAMIC RTCP
Dynamic RTCP software
USED MACHINE
FILL OUT OUR FORM FOR MORE INFORMATION
Potrebbero interessarti
MILLING MECOF MOD. M 300
FPT
07447
CNC ECS 2301
CORSE:
Longitudinal stroke axis X mm 9500
RAM cross stroke axis Y mm 1400
Vertical...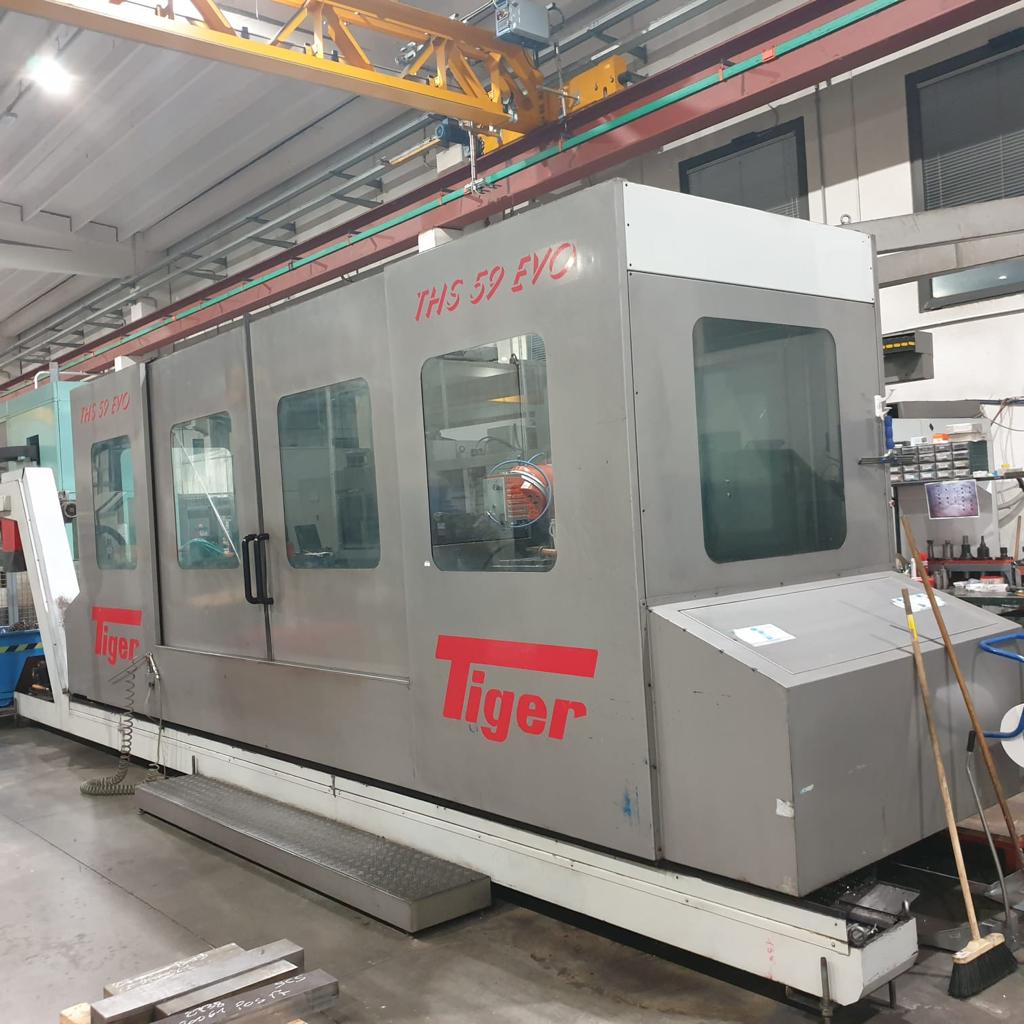 MILLING MACHINE TIGER THS59 EVO
FPT
08988
CNC SELCA S4060-D + Selbox S2 remote handwheel
TRANSLATING TABLE:
Table length mm 2800
Table width...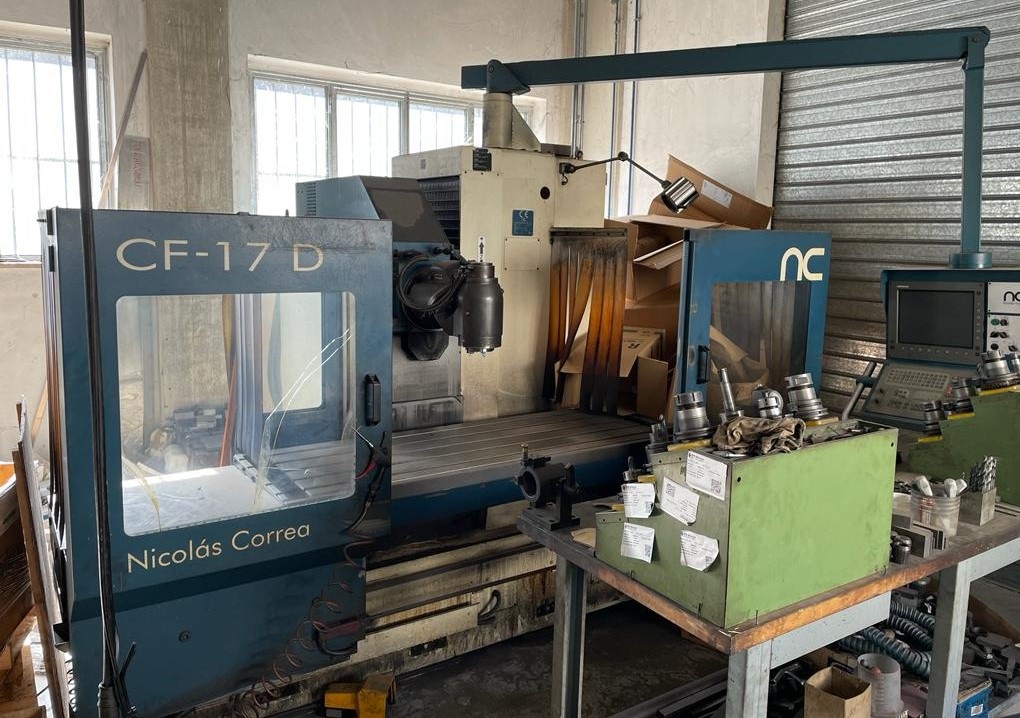 MILLING CORREA MOD. CF-17 D
FPT
09184
CNC HEIDENHAIN
Axis X stroke mm 2000
Axis Y stroke mm 800
Axis Z stroke mm 800
Table dimensions mm...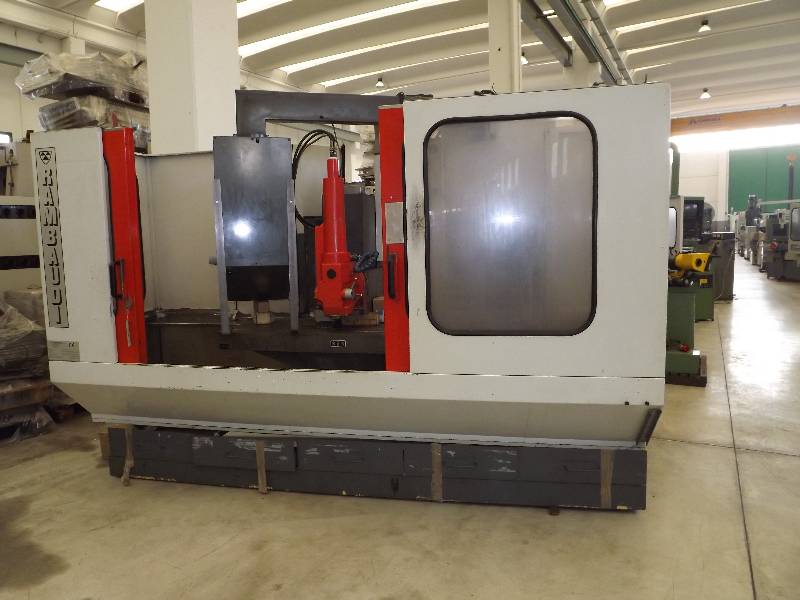 MILLING RAMBAUDI VERSAMATIC 500
FPT
06070
CNC SELCA 3045
Manual rotary head +/- 90°
WORKING CAPACITY:
Axis X mm 1200
Axis Y mm 500
Axis Z...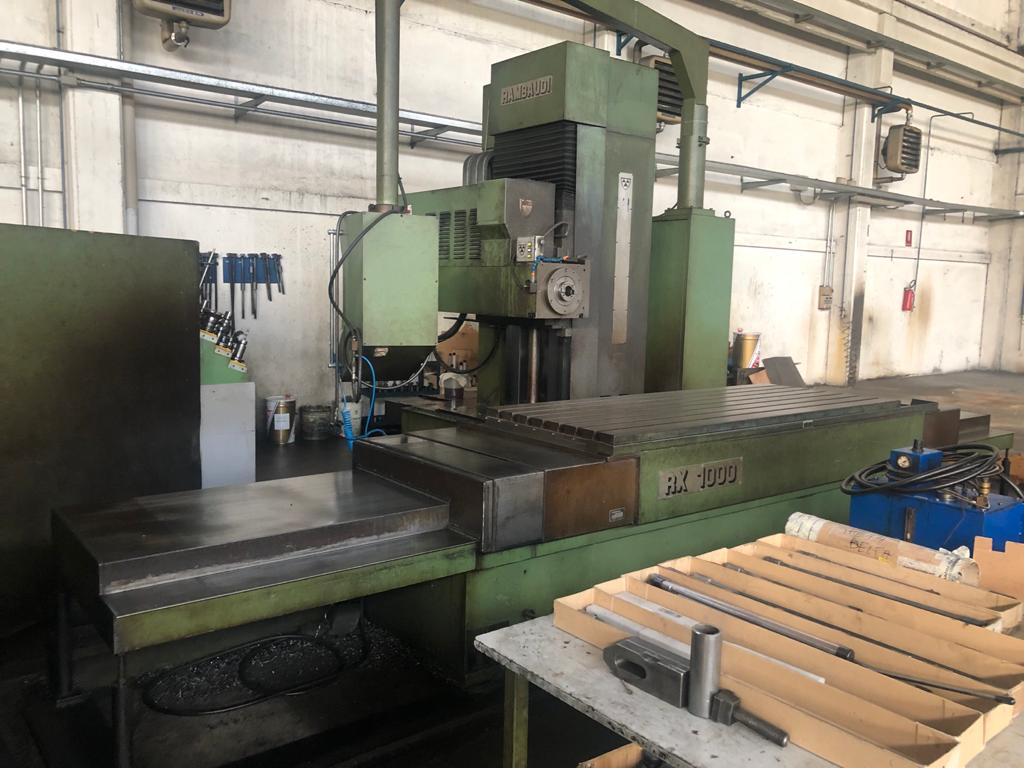 MILLING RAMBAUDI RX 1000
FPT
08773
CNC SELCA S1200
Table dimensions mm 2500x1000
Axis X stroke mm 2000
Axis Y stroke mm 1200
Axis Z...
X
Scarica PDF
Enter your email address to receive a link to download the PDF
Per poter procedere, la prima volta devi inserire i Tuoi dati
<