milling gantry/portal - Used
FPT
09205
WITH FIXED PORTAL
CNC Heidenhain TNC530I S.P.
WORKING AREA:
Longitudinal travel X mm 2000
Cross travel Y mm 1400
Vertical travel Z mm 800
Table dimensions mm 1100x2000
Table capacity 3300 kg
Distance between table and spindle nose 100-900 mm
Maximum horizontal passage mm 1430
Maximum vertical passage 900 mm
Height of the worktop from the ground mm 650
OVERALL DIMENSIONS (INDICATIVE):
Maximum height 3800 mm
Base dimensions mm 5850x2650
ELECTROSPINDLE:
Motor power kW 18
Max torque Nm 80
Max power from 2150 rpm
Max speed rotation 18000 rpm
Spindle taper HSK-A-63
MAX INPUT POWER:
kW 46
Amp 78
TOTAL WEIGHT (APPROX.):
22,000 kg
MACHINE COMPLETE WITH:
- CNC HEIDENHAIN TNC530I S.P.
15.1 "TFT monitor;
Graphical user interface;
Heidenhain linear measuring systems
Interpolation capacity: up to 9 axes
Type of interpolation: linear, circular, helical
Block cycle time (BCT): minimum 0.5 ms; ASCII program coding language;
ISO programming language, Heidenhain
Storage unit: Hard disk
Programming on machine board FLEXK
Axis control techniques: Jerk, Look-Ahead, digital filters
Integrated cycles for piece measurement and tool measurement
Data transmission interfaces: RS232 at 115200 baud, RS422 a
115200 baud, Ethernet 100Base T (for use on 10Mb network
a speed reducer is required, up to customer)
Axis control: algorithm for High Speed ​​Cutting (HSC)
- TOOL COOLING LUBRICATION:
System for tool lubrication and cooling through nozzles
adjustable around the spindle.
Performance:
Flow rate: 30 l / min.
Pressure: 6 bar
Filtering degree 100 µm
- CHIP CONVEYOR WITH RIGHT EXIT
- REMOTE CONTROL PANEL FOR HEIDENHAIN CNC
Remote control panel with the following characteristics:
* alphanumeric display
* n.1 step-by-step handwheel with switchable gradation with five resolution levels
* jog keys +/-
* stop key
*emergency
* dead man buttons (CE standards)
* fixing with magnet
* 2 adjustment potentiometers F and S (feed and spindle revolutions)
* 5 function keys usable as "softkeys" (option)
RS422 bidirectional serial interface that allows to "write" on the display all the information that the operator may need, for example: position of the axes, operating mode, feed, spindle speed, alarms.
- LASER PROBE AND TOOL INTEGRITY VERIFICATION SOFTWARE AND TOOL LENGTH AND RADIUS MEASUREMENT SOFTWARE
- ETHERNET COMMUNICATION INTERFACE FOR HEIDENHAIN
-RIGID TAPPING FOR ELECTRIC SPINDLES (FOR EACH HEAD)
USED MACHINE
FILL OUT OUR FORM FOR MORE INFORMATION
Potrebbero interessarti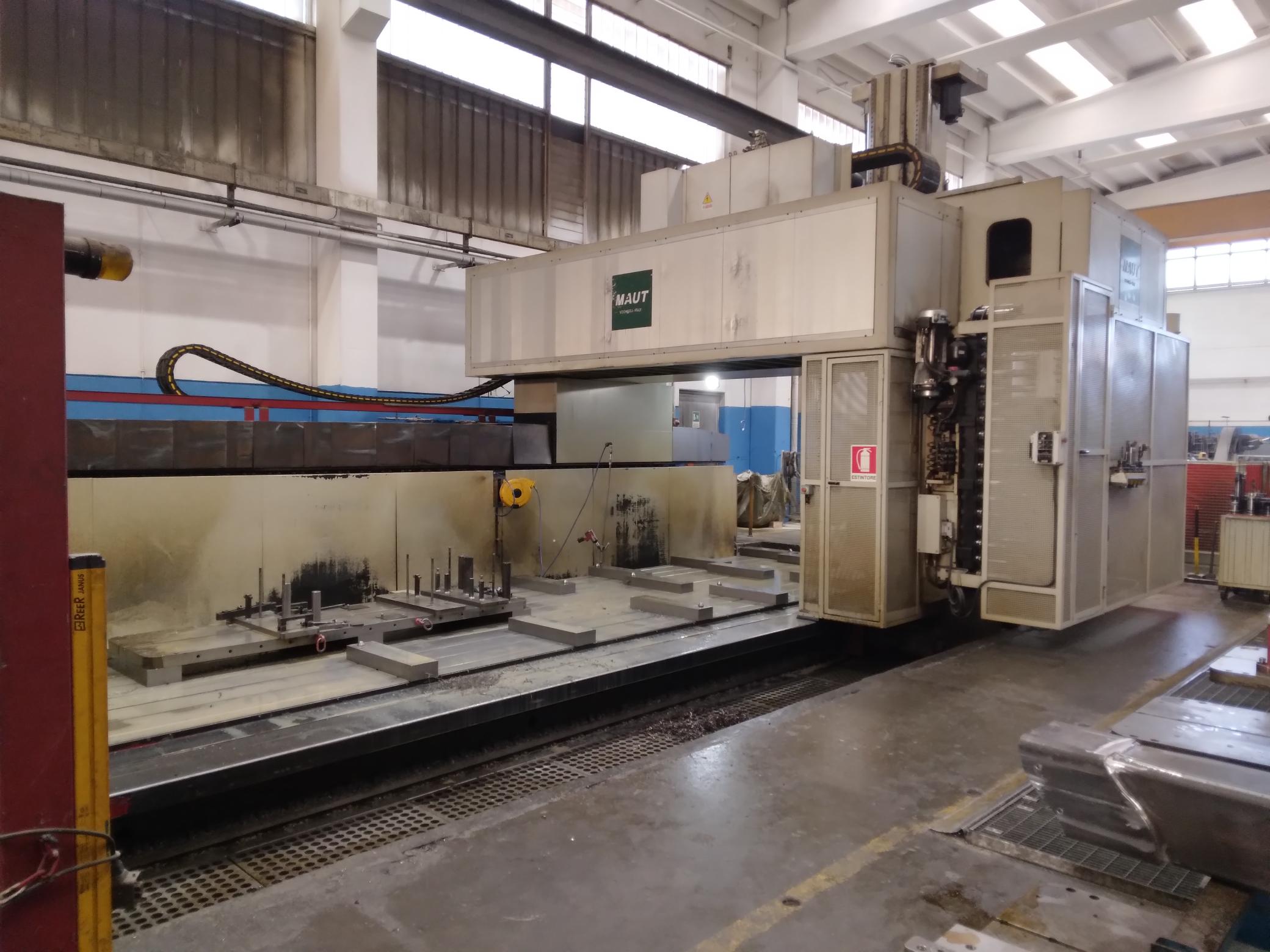 MILLING MAUT MOD. PM3
FPT
09200
CNC HEIDENHAIN TNC 530
AXIS STROKES:
Longitudinal stroke X axis 8000 mm
Vertical travel Z axis 1500...
MILLING FPT MOD. RAID XL
FPT
09205
WITH FIXED PORTAL
CNC Heidenhain TNC530I S.P.
WORKING AREA:
Longitudinal travel X mm 2000
Cross...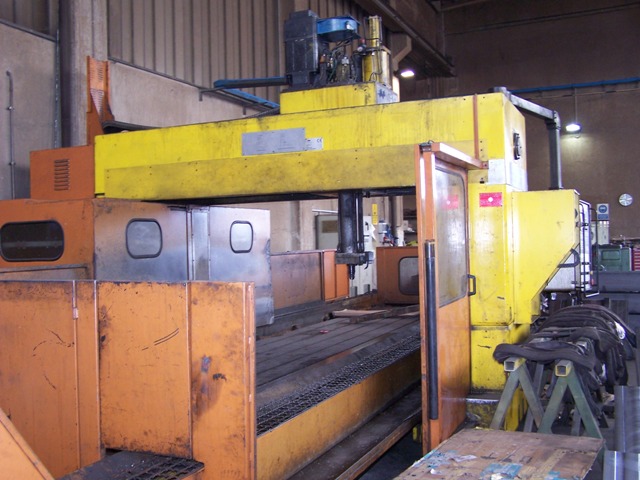 PORTAL MILLING JOBS-MULTINORMA
FPT
New04594
MOD. 25-70
CNC NUM 750F
AXIS X: mm 7000
AXIS Y: mm 2300
AXIS Z: mm 500
Min-max distance...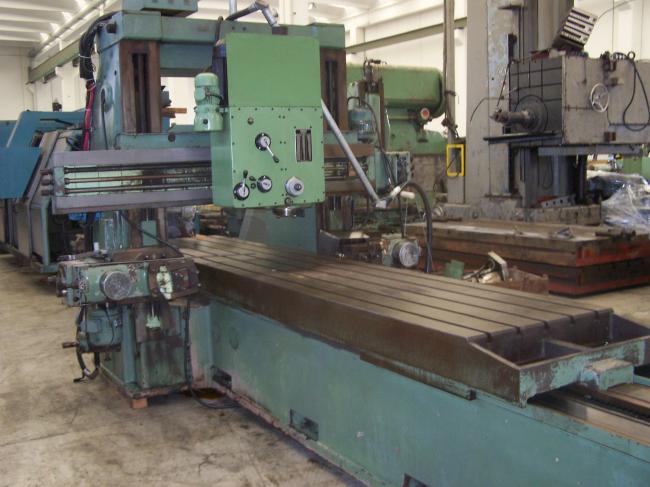 GANTRY PLANO- MILLER CARNAGHI
FPT
New01499
Max stroke mm.4500x1200X 800
single milling spindle
No 2 lateral carriage
used machine
PLANO MILLER CARNAGHI MOD. VITTORIA F52
FPT
New05633
PORTAL
CNC SIEMENS SINUMERIK
WORKING TABLE SIZE 1200 x 5000 mm
USED MACHINE
COD. 219/5
X
Scarica PDF
Enter your email address to receive a link to download the PDF
Per poter procedere, la prima volta devi inserire i Tuoi dati
<